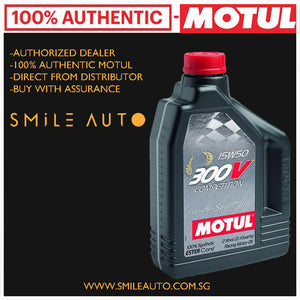 Motul 300V Competition 15W50 Racing Motor Oil
$48.00

$48.00

Save $32
Tax included.
---
---
Motul 300V Competition 15W50 Engine Oil (2L Bottle) 
Racing engine lubricant which is 100% Synthetic with ESTER Core® technology. Recommended for racing, competition and track use for normally aspirated or turbocharged engines. Particularly recommended for engines producing a medium level of fuel dilution in the oil. Maximum anti-wear resistance. Perfect engine cleanliness. 
300V Range Available In:
300V Sprint 0W15 
300V High RPM 0W20 
300V Trophy 0W40 300V 
Power Racing 5W30 300V 
Power 5W40 300V 
Chrono 10W40 300V 
Competition 15W50 300V 
Le Mans 20W60

All listed Motul products are 100% Authentic & Genuine, sourced directly from Motul (Singapore) distributor.