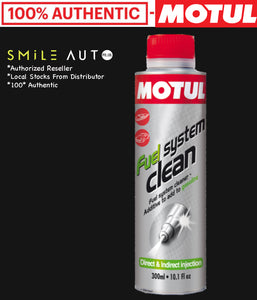 Motul Fuel System Clean Auto
$22.00

$22.00
Tax included.
---
---
Motul Fuel System Clean (0.3L Bottle)
Motul Fuel System Clean is a complete fuel system cleaner designed to be used in all types of gasoline engines with injection or carburettors, naturally aspirated or turbocharged with or without catalytic converter.
It effectively cleans dirt and clogging which appears in the whole fuel system. It provides a perfect lubrication during cleaning process and prevents removed micro particles from re-depositing.
MOTUL FUEL SYSTEM CLEAN helps to :

• clean the carburettors or the injectors (for a better atomisation) 
• prevent the formation of deposits and varnishes on inlet valves and in combustion chambers 
• disperse condensation water in order to avoid any fuel system oxidation
A regular use will provide :

• optimum engine performances 
• fuel savings
• increased lifetime of fuel system and catalytic converter 
• a reduction of exhaust pollutants emissions
All listed Motul products are 100% Authentic & Genuine, sourced directly from Motul (Singapore) distributor.