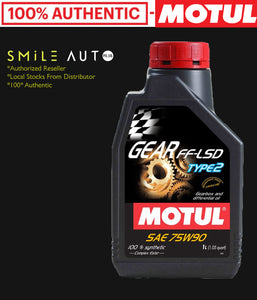 Motul Gear FF Type 2 75W90 LSD Manual Transmission Fluid
$40.00

$40.00

Save $12
Tax included.
---
---
Motul Gear FF Type 2 75W-90 LSD Manual Transmission Fluid (1L Bottle)
Lubricant for Transmission and differential with
mechanical LSD
Specially designed for FF (Front-engine/Front-drive) type transmission with mechanical LSD (Limited
Slip Differential) system.
Suitable for all transmission (synchronized or non-synchronized), 6-speed transmission, gearbox with
differential, transfer gearbox and hypoid differentials with or without LSD.
All types of cars: Circuit, Group A, Rally, Gymkhana, Tuned, 4WD,…..
STANDARD : API GL-5
- 100% synthetic lubricants with ester having excellent anti wear protection, extreme pressure
performance and thermal stability at high temperature
Type 2: Complex ester based
- Stable frictional performance along with temperatures
- Included friction modifiers avoid noisy or dragging limited slip differential with appropriate torque
transferring
- Smooth gear shifting
Drain interval : according to manufacturers' recommendations and tune to your own use.
Density at 15°C ASTM D1298 0.878 g/cm³
Viscosity at 100°C ASTM D445 17.2 mm²/s
Viscosity at 40°C ASTM D445 104 mm²/s
Viscosity index ASTM D2270 182
Pour point ASTM D97 -48°C
Flash point ASTM D92 212°C
Workshop services available too. Please enquire for more details.
All listed Motul products are 100% Authentic & Genuine, sourced directly from Motul (Singapore) distributor.