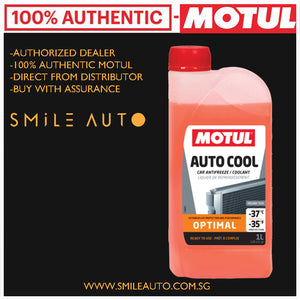 Motul Auto Cool Optimal -37°C
$24.00

$24.00
Tax included.
---
---
Motul Auto Cool Optimal -37°C (1L Bottle)
*Motul Coolant (Pre-Mixed Solution), Does Not Require Further Mixing Or Dilution With Water, Ready To Use Solution.* We recommend usage with Motul MoCool (20:1 Mix) For An Even Higher Performance Cooling.
MOTUL AUTO COOL OPTIMAL -37°C is a ready to use coolant, based on monoethyleneglycol, with organic additives (OAT – Organic Acid Technology).
-Optimal protection of cooling systems against freezing and metallic parts against corrosion.
-OAT coolant technology provides an excellent thermal exchange and therefore improves engine cooling efficiency and prevents from boiling.
-This organic technology provides anti-corrosion properties that remain at high temperature and aging.
-Low corrosion inhibitors allow for extended drain intervals.
-Seals, hoses, pipes and plastic parts friendly.
Nitrite free, amine free, phosphate free, borate free, silicate free.
Density at 20°C / 68°F ASTM D4052 1.068 pH ASTM D1287 8.4
Initial crystallization ASTM D1177 -38°C / -36.4°F
Freezing protection -37°C / -34.6°F
Boiling Point ASTM D1120 136°C / 276.8°F (+1.5 bar)
Alkalinity reserve ASTM D1121 2.8 mg KOH/g
All listed Motul products are 100% Authentic & Genuine, sourced directly from Motul (Singapore) distributor.